About Magazine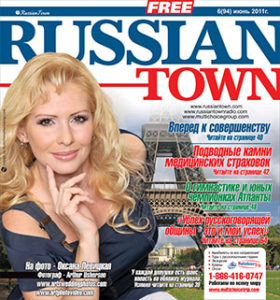 RussianTown magazine, located in Atlanta, Georgia, is the top Russian-language magazine published in the Atlanta metro area. It is designed specifically for increasing Russian-speaking population and every edition is available online at RussianTown.com. This gives RussianTown a straightforward advantage because it has a genuine link to the Russian-speaking residents of Atlanta. It is a sound choice for Russian ethnic media in Atlanta and Georgia.
What does this mean to you? RussianTown can help you grow your business and realize thesuccess that you have envisioned! The Russian media in Atlanta has a sizable market and has not been marketed to until now. Businesses are learning that you must gain the trust of local people to successfully enter their markets. Ethnic advertising in Atlanta and Georgia can put you in a position to do just that. RussianTown Magazine is dedicated to the Russian-speaking community in Atlanta and Georgia and has no real competitors when it comes to advertising for businesses.
Why is this important?
The numbers can explain it. Over 70,000 Russian-speaking people reside in Atlanta and this number increases daily. People that speak the Russian language have a need for Russian advertising in Atlanta, and businesses can increase their sales volume by marketing to this community. RussianTown is offered to consumers at no cost to them so you can reach more people by advertising with this ethnic newspaper in Atlanta and Georgia because readers are more likely to grab a magazine or newspaper that they can get for free. As you company advertises more, you make more money. Russian media in Georgia helps businesses capitalize on the growth of communities in Atlanta. Ethnic marketing in Atlanta and Georgia is tremendously important to businesses that want to succeed in this metro area. Your marketing plan should not be complete until it includes an ethnic and Russian media advertising component.
Why do consumers choose Russian Town?
Readers enjoy RussianTown because it covers a wide range of topics from politics and news to culture, finance and fashion, and many more. However, it is not your usual publication because it puts a unique emphasis on the Russian culture as well as many other area around the globe. Russians need media that they can comprehend and RussianTown brings this to the Atlanta area. The first RussianTown publication was printed in March 2003 and has been the #1 magazine of this genre every year since. The Russian community in Atlanta wants to bring you their business and loyalty. Let RussianTown help these consumers find you!