A question from businesses: What do I get for advertising in RussianTown?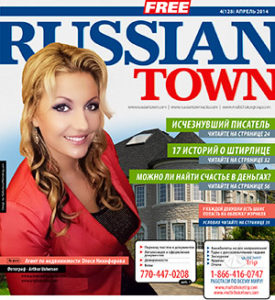 RussianTown has created an innovative bonus system specifically for clients who make a commitment to advertise with us for at least six editions. This program allows your ethnic advertising in Atlanta and Georgia to benefit you in more ways than one.
RussianTown.com's Business Directory lists all of our current advertisers. This listing allows people to search for the products and services that they need and click on a company name to view its advertising and any associated media, along with the company's contact information. Many companies also link their websites to the ads so that consumers can be led right to the products or services that they need. When businesses combine their ads with a magazine that provides ethnic marketing in Atlanta and Georgia, this gives companies a reliable way to get new customers. RussianTown.com is the top website of its kind as it currently reaches over 60,000 Russian-speaking Atlanta consumers. Your advertising can be placed in Russian Town and your business will also reap other benefits. Continue reading to see how advertising in Russian Town can enhance your ethnic media in Atlanta and Georgia.
Russian newspapers and magazines in Atlanta and Georgia have stimulated the success of businesses and consumers that advertise in them. To add to the experience of advertising in our ethnic newspaper in Atlanta and Georgia, Russian Town is offering a broadcasting bonus to clients who sign on to advertise with Russian Town for a period of 6 months or more! This means that companies can advertise to over 60,000 Russian-speaking citizens for 180 full days!
Russian media in Atlanta is necessary and needed, and there are consumers that want the goods and services that your company has to offer. In addition to appearing in our print version and the RussianTown.com website, your advertising will also be seen on our Facebook page that has over 3,700 followers. Ads will also appear in Russian Town's iPhone, iPad and Android app versions of our magazine.
itunes.apple.com
play.google.com
Your ad will be published in our two digital platforms:
russiantown.com
www.joomag.com
All of these great incentives will be provided to clients who commit to advertising with Russian Town for at least six months or longer. Customers will now be able to contact you immediately and your marketing will be widened to touch more of the Russian-speaking communities in Atlanta and Georgia.
Russian Town makes Russian advertising in Atlanta possible, easy and reasonable – you receive all of the benefits above by simply placing your ads in Russian Town Magazine. Your advertising dollars are put to hard work at a low cost to your business, allowing you to increase your profits.
How can we offer all of this to you?
Russian Town can give these incentives due to smart marketing in a community of people that often are not targeted by businesses. Russian Town provides a road for your company to reach these Russian-speaking citizens. Let us help you take advantage of it!
Contact Russian Town today so we can tell you how to get started!