Why Russians?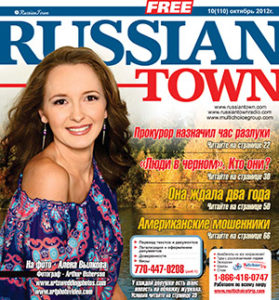 Russian immigration to Atlanta started in the 1970's when the first large wave of Russian-speaking immigrants came to the city. The Russian population has continued to grow over the decades and is still increasing today. The original migration took place at a time when there was no prominent ethnic newspaper in Atlanta and Georgia.
What brings people to Atlanta? People move to Atlanta for many different reasons. Some come to start companies while other families move here for the education options for their children and reasonable cost of living. Colleges and universities have grown their student bodies and have attracted more Russian-speaking students by using ethnic media in Atlanta and Georgia. Russian women also follow their husbands here to start new lives.
The Visa O-1 has also brought many prominent Russian-speaking scholars to Atlanta who have contributed to the fields of science, medicine, education and art.
Ethnic advertising in Atlanta and Georgia has helped many Russian-speaking individuals and businesses to thrive and become some of the most successful in the country. Over 55% of the Russian-speaking families living in the U.S. have average incomes higher than $55,000 per year. Ethnic media in Atlanta and Georgia has exposed these Russian-speaking people to businesses that offer products and services that has made their transition to Atlanta easier.
Russian people have necessities just like everyone else in Atlanta – cars, food, restaurants, doctors, accountants, homes, insurance and construction, among others. The Russian community has a need for Russian media in Atlanta, and when this is provided along with smart ethnic media in Atlanta and Georgia, the Russian-speaking community can obtain all of the products and services that it needs to thrive in Atlanta.
After observing the contributions that Russian-speaking people have made to Atlanta and the state of Georgia, as well as in other areas of the U.S., we can see why Russian advertising in Atlanta is so important to this growing segment of the population.