For Ad Agencies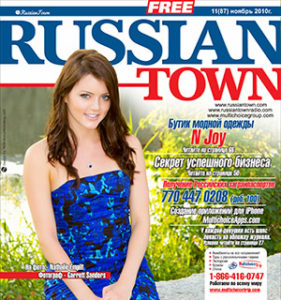 If you're an advertising agency, you likely have clients who are looking for fresh ideas for ethnic advertising in Atlanta and Georgia. Well, look no further because we can help you with that! Russian Town has helped many businesses capture the attention of the Russian-speaking community in Atlanta and Georgia. Let us help you do the same.
Russian media in Georgia is important and Russian Town Magazine offers an ethnic newspaper in Atlanta and Georgia that creates a bridge between businesses and the Russian community. It is the main Russian-speaking publication in Atlanta and Georgia so it has a loyal following. If you use our ad producing service to promote your ethnic media in Atlanta and Georgia by allowing us to create an avenue for your advertising message to reach the Russian population, you will increase your exposure via best Russian media in Atlanta.
If you currently use ethnic marketing in Atlanta and Georgia in your marketing plan but also need translation services for your content, Russian Town has a team of interpreters that can translate any advertising message. We will ensure that your ad content is clear and understood by Russian-speaking individuals while preserving the meaning of your original message. Our copywriters know and understand the Russian culture, which means that your advertising will be refined so that it is receptive to the readers from the Russian community. This will result in more exposure for your business, which leads to higher revenues. Our Russian newspaper and magazine in Atlanta and Georgia is very beneficial when it comes to expanding our clients'customer bases through Russian advertising in Atlanta.
We have also created a great commission system that we developed for marketing and ad agencies who select Russian Town when advertising for their clients. Ask us for more information on what we can offer you.